At Home in the Trees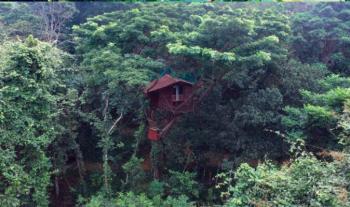 Few places come as close to so perfectly combining comfort and proximity to nature as our two tree houses, located in different parts of the property and each providing ultimate privacy for up to four guests.

None of the trees has been pierced in the construction and their roots continue to grow naturally. For the building we used hardwood from our farm, including teak, rosewood, acacia, and jackfruit timber. The result is a stunning and unshakeable testament to the beauty that arises when humans work with, rather than against, nature…
Farm Stay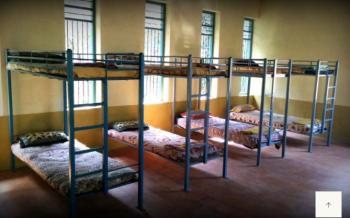 For larger groups as well as individuals we also offer two door-to-door dorms with 20 bunk beds each, situated right next to our skate park and in the heart of Varanashi Organic Farms.

Whether you choose our tree houses or the dorms, your stay includes – next to real intimacy with nature & scrumptious home-cooked organic food – access to our facilities and activities, depending on your wishes.

Individuals, couples, families, and friends keen to experience eco-friendly living are all welcome.
Organic Retreat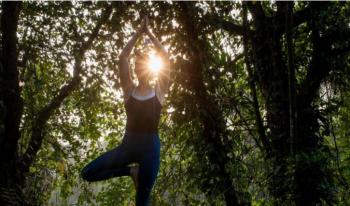 Enjoy a peaceful and rejuvenating mind-body retreat in an untouched natural environment.

Your daily schedule will consist of organic exposusre, refreshing swim sessions, walks on the extensive property, massages, yoga sessions and three delicious organic home-cooked meals. This retreat helps you rejuvenate and learn more about organic living. You will come away from the retreat with the ability to make healthier lifestyle choices at home. In your free time, you can enjoy nature walks, self-study, swimming and other water sports or just relax.
Cacao Trail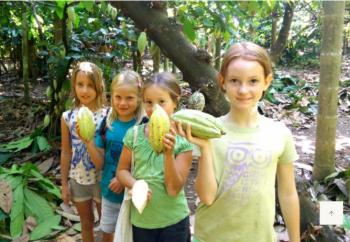 In this exciting and informative program, you learn about the chocolate making process: how the cacao plants at the farm become chocolate bars in a factory. You will gain an appreciation for all the work that goes into one of your favourite foods, and have plenty of samples along the way!

Daily activities include: hands-on potting, plant grafting, harvesting cacao pods, seed removal and fermentation, visits to local farms and a visit to a chocolate factory. In your free time you can enjoy farm facilities including water activities such as swimming, zip line, kayaking and stand-up paddling.

Package options

Single Day Cacao Trail

3 Day Cacao Trail
Interested in our existing offers or a personalized program? We host stays all year round and are happy to design one that suits your needs and exceeds your expectations 🙂
For more information on
Organic Retreats, Tree House/Farm Stay & Cacao Trails
contact Ashutosh on +91 80776 40169 & Gokul on +91 87921 13075